Fun Virtual Team Building Activities
Virtual Team Building Activities have become the next best thing for companies looking for a day of team bonding. With the numerous restrictions and the recent heightened alert period, gathering your peers and colleagues into a single event can be pretty challenging. However, with Virtual Team Building, your organisation can now come together through zoom and have a remote virtual team bonding session.
In this article we will be introducing 20 Fun & Unique Virtual Team Building Activities in 2021 that we have specially tried and tested it out to ensure that is fun and value for your money! Similarly, If you're looking for other activities instead, you can check out the 55 Team Building Games Your Team Will Love!
Team Building Activities in 2021 (Tried & Tested)
1. Virtual Escape Room
Our most exciting and hottest team-building activity yet, Virtual Escape Room! Singapore's first and only Virtual Escape Room starting from only $20/pax.
You'll have the opportunity to gather your friends/colleagues/family together over a virtual zoom session, without worrying about safe distancing measures. Participants will exercise problem-solving, communication skills, teamwork and improve relationships with one another, while they work together virtually to solve for hidden clues and uncover secrets to save their virtual village!
Facilitation will be provided for each escape room event to guide participants should they require any assistance during the session! If you're looking for a fun activity to participate in with your team, this is a team bonding activity that you don't want to miss!
Price: From $20/pax
Book Your Virtual Escape Room Game Here
2. Virtual Food Quest
Put your foodie knowledge to the test with Singapore's only Virtual Food Quest Experience for only $20/pax. The Virtual Food Quest promises an epic food adventure for all!
Grab your foodie friends and colleagues along this game to solve food-related challenges, each revolving around a different cuisine! Spend some quality time bonding with them as you learn more about different types of food together! One of our easiest virtual games to play, virtual food quest will be a great activity for your next team building day. Your team's communication and teamwork will be put to the test in this light-hearted, fun team building games session!
Price: From $20/pax
Book Your Virtual Food Quest Here
3. Virtual Time Travel
Inspired by the concept of Back to the Future, we proudly presents Virtual Time Travel experience for just $20/pax!
In Virtual Time Travel, you will get to travel back in time, and travel into the future to find your missing uncle. Participate in an exciting storyline as you transcend time with your team and solve puzzles in different eras and time zones. Race against the clock to complete your mission!
Highly entertaining and challenging, our Virtual Time Travel will challenge your team's problem-solving skills. As it requires a great deal of teamwork and communication, the game is ideal for your next team bonding session! This is one of the latest and most unique team building games ever created!
Price: From $20/pax
Book Your Virtual Time Travel Here
4. Virtual Nightfall
Adapted from the popular game; Werewolf/Murderer, Virtual Nightfall is an awesome way to test the wits of you and your team. Communication, reading of body language and persuasion are some of the key skills required to play this game. Each player will be assigned a character, ranging from the killer, detective, civilian to doctor; Good vs evil, who will prevail?
Book a private session with us at your desire date and time! All briefing, facilitation will be provided and you can just relax and enjoy spending time with your team! Learn about one another's strengths and weaknesses in this mind game.
Price: From $20/pax, including a prize for the winner delivered to his doorstep!
Book Your Virtual Nightfall Experience Here
5. Virtual Game Show
Experience your very own game show with your friends, colleagues and more! Immerse yourself in a fun and exciting virtual environment as you work together with your team members to successfully solve puzzles and guess the letters!

To win, you need to form the correct word and aim to get the highest amount of money for your team! If you love watching and playing along with game shows such as Wheel Of Fortune, Family Feud, The Price Is Right, this is the perfect virtual activity for you!
Price: From $20/pax
Book Your Virtual Game Show Here
6. Virtual Amazing Race
Embark on an exciting mission racing around the world with your friends and solving the mystery of "The Return of The Queen". This unique team building activity features collaborative problem-solving, immersive 360° real-life clues and a thrilling storyline.
This innovative Virtual Amazing Race is specially designed by the company's experienced game experts to incorporate elements of team bonding, communication, and team work to create one of the best online team-building experiences.
Virtual Amazing Race by The Fun Empire can accommodate small groups of 2 pax to large groups of hundreds of players. At such an affordable price point of $20+/pax, this is one team building game that you have to try!
Price: From $25/pax
Book Your Virtual Amazing Race Here
7. Virtual Travel Experience – Icons Of Singapore
Our Virtual Travel Experience allows participants to visit and explore countries from the comfort of their own homes. The first in the series, Icons of Singapore, takes players on a virtual trip to Singapore. They will learn about the city-state's history, culture, and cuisine through a series of interactive puzzles and an exciting storyline.
At an affordable price point of only $20+/pax, Virtual Travel Experience is ideal for those who are curious about Singapore or intend to visit the country in the future. It is also a great team building activity for corporate teams to find out more about the country!
Price: From $20/pax
Book Your Virtual Travel Experience Here
8. Virtual Terrarium Making
Before each session, Terrarium Home Kits will be delivered straight to each participant's doorstep. Fully facilitated by certified trainers, the Virtual Terrarium Workshop guides participants through the theory and practical aspects of making your very own terrarium. All materials are included and participants will also receive a cute figurine to complete the look!
Price: From $35/pax
Book Your Virtual Terrarium Making Here
9. Virtual Art Jamming
Our art jamming provides a relaxing, soothing and fulfilling activity that is suitable for everyone. Unleash your creativity and paint a masterpiece that can be displayed at home or the office! You can enjoy an Art Jamming session with your friends and colleagues from the comfort of your homes.
All materials are provided, including acrylic paints, canvas or tote bags, pencil, erasers etc. You can choose either the Canvas or Tote Bag as your preferred medium and get painting!
Price: From $35/pax
Book Your Virtual Art Jamming Here
10. Virtual Leather Making
Working from home can get pretty boring and tiring at times, keep yourself occupied with our Virtual Leather Making, and relieve some work stress while you're at it! Our self-guided Leather Making Home Kits provide an opportunity for you to learn how to create your very own leather coin pouch/ leather wallet!
Price: From $40/pax
Book Your Virtual Leather Making Here
11. Virtual Clay Making
Participants will get to learn how to make their very own clay figurine, charms or key chain. Suitable for both adults and kids, the activity is toxic-free and uses only high-quality air dry clay!
They will be guided by professional instructors during the live virtual clay workshop session. Basic concepts such as colour mixing, basic shapes and important tips in handling and moulding clay will be taught.
This is a great way to bond with your team and create something unique and meaningful together!
Price: From $25/pax
Book Your Virtual Clay Making Here
12. Virtual Party Mania
With Party Mania, we've developed and specially designed a collection of popular party games suitable for all types of occasions and all ages!
Keep spirits up and make new memories with your colleagues, friends or family with our super entertaining and hilarious party games. Nothing brings people together faster than laughter. Our Virtual Party Mania experience is guaranteed to provide fun and laughter for all! To make things even more spectacular, the winner of the Virtual Party Mania will get a prize delivered straight to his or her doorstep!
Price: From $20/pax
Book Your Virtual Party Mania Here
13. Icebreaker Quizzes
Icebreaker quizzes are a fun and low friction way to do a little bit of team building in your team every week. QuizBreaker is one online icebreaker quiz that automatically sends out a new round each week to your team on your chosen schedule. It's great for bringing remote teams closer together so they can learn more about each other whilst having fun.
How it works
You and your team answer a variety of fun and safe-for-work ice breaker questions, then you have to guess each other's answers in multiple-choice quizzes. They've turned it into a game complete with badges, levels, trophies and a weekly leaderboard for a bit of fun competition.
Adapted From Weekdone
14. Virtual Cooking Challenge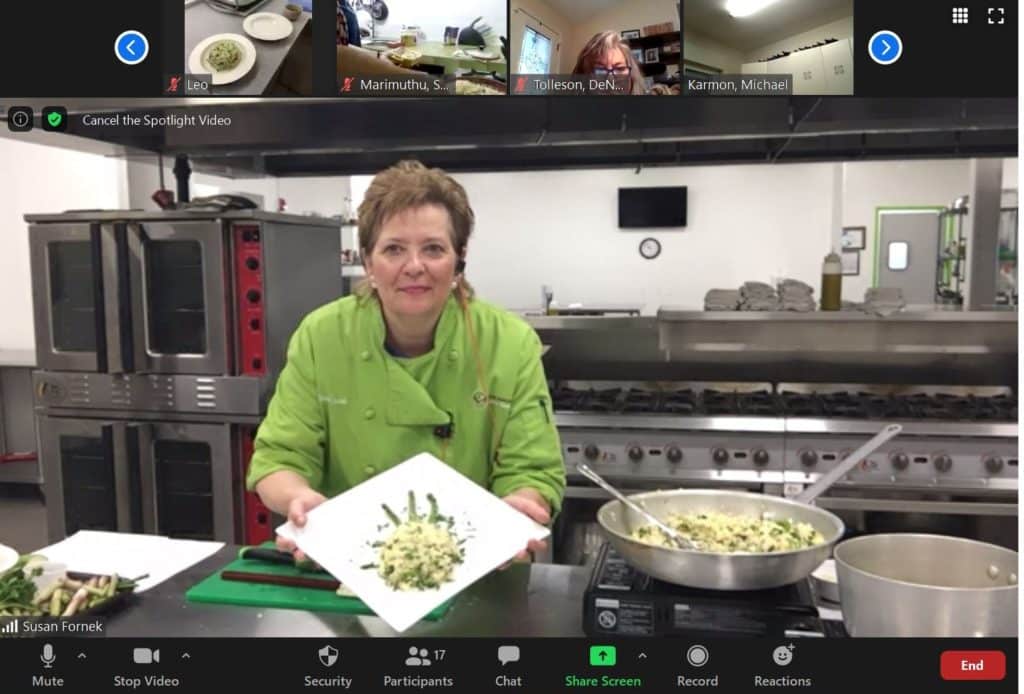 Experience a virtual and interactive MasterChef kitchen experience with Virtual Cooking Challenge. Bring out your favourite pot and pans, hook them onto your aprons and gather your colleagues around. Have a friendly competition between one another and find out who in the team will make the most Instagrammable Dish! Works well for teams of all sizes and takes around 90-120 minutes. Similarly, you can check out YumTum's virtual cooking challenges!
15. Team Movie Night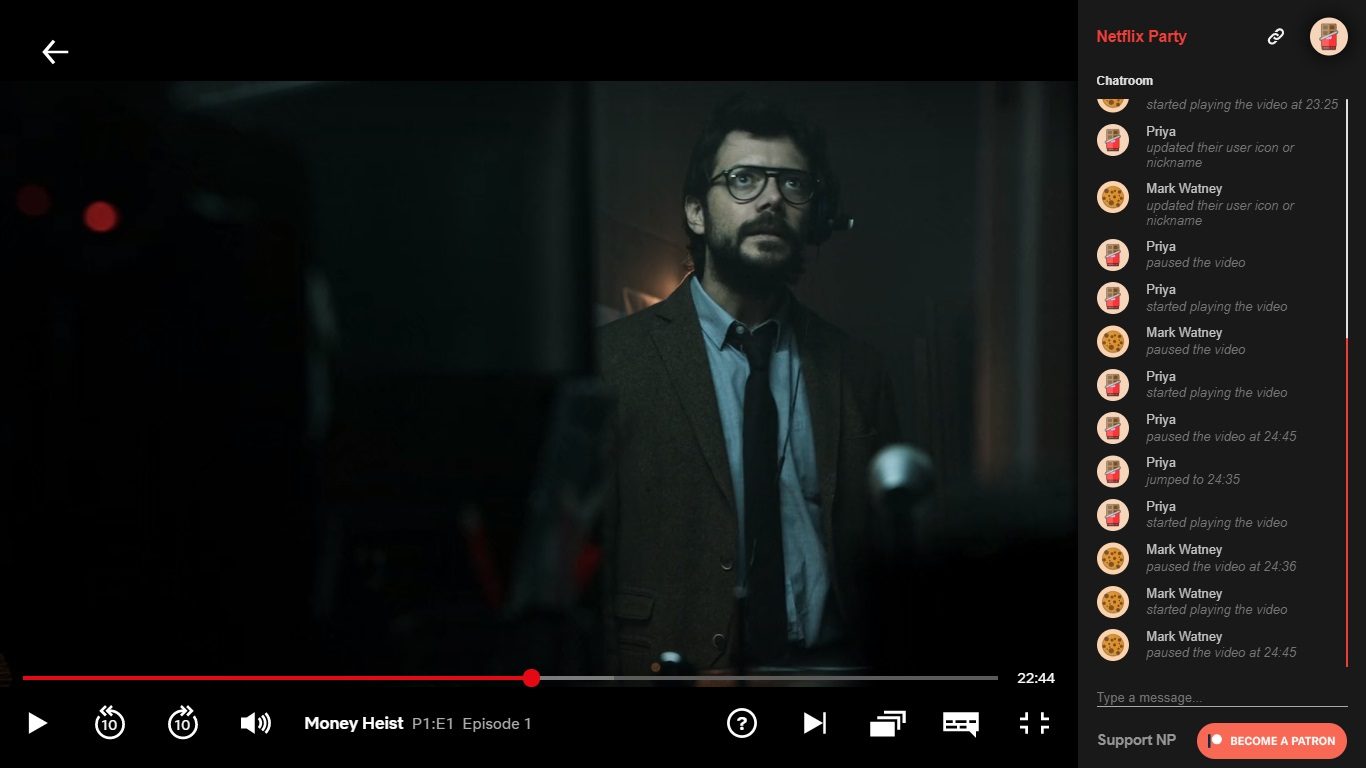 Movies are a classic for everyone. Plan and choose your favourite genre suitable for your team and host yourself a monthly team movie night (or day). Ask everyone to submit a vote for a movie and a time to watch it, then stream it through a conference call for the entire team to see, no matter where they're located! You can also use zoom/other video calling preference to see everyone's reaction.
16. Personality Tests
Visit the 16 personalities site for an MBTI Test. Have a sharing session through zoom and get the person to share their findings after completing all the questions provided. The test helps each team member figure out whether they're introverted or extroverted, thinkers or feelers, judgers or perceivers, and whether they take in information through sensing or intuition.
This test helps people figure out if they are Upholders, Obligers, Rebels, or Questioners. It gives you a chance as a team leader to see how your team best responds to your expectations. It can also help them work with each other in more effective ways and avoid some of the frustrations of group work.
17. Spreadsheet Pixel Art (Free Template)
Spreadsheet Pixel Art is when you add a little code to automatically replace numbers with a colour fill for that cell. You can then use these colours to "paint the numbers" and create pictures of nearly anything.
Pro tip: For virtual team bonding with a little competitive spirit we recommend introducing this activity as a competition. Here is a free template: Spreadsheet Pixel Art.
Adapted From Weekdone
18. Online Team Building Bingo
Online Team Building Bingo is a fun and familiar game, which makes it a quick, easy and free way to get started with virtual team building. There are many templates and topics which you can try out, to spice things up, we recommend some NSFW topics included to get the game going and making it more interesting!
19. Never Have I Ever: Rated E Edition
The game is often played to help guests know more about each other's secrets and background. Every player basically starts off with 10 fingers that represent the number of "lives" they have. Each time a person says that they've never done something, and the player has already done it; the player will have to put down a finger
For example, if someone shouts "never have I ever done skydiving." Any other players who've done skydiving before will lose a life. There is also a drinking variation to this game whereby instead of losing a life, players will have to drink. To make things interesting, throw in some rated E-edition topics!
20. DIY Craft Challenge (Build Together)
My last point of the article brings you DIY Craft Challenge, a 30-minute surprise activity you can play with your team. Get each of your team members to create/build an object from materials available at home. Create a friendly competition whereby they have to complete it within half an hour. The end goal isn't to build something museum-worthy; it is to spark creativity and give your team a fun way to interact together.
Fun Virtual Team Building Activities
We hope this list of Fun Virtual Team Building Activities in Singapore will allow you and your peers to enjoy this period of time! If you're looking to find the best team bonding activities in Singapore, The Fun Empire creates and provides the world's coolest and most unique team building games.
Our award-winning team bonding activities have been well-loved by our diverse clientele, generating over 1,000 5-Star Reviews. We have also successfully organized over 10,000 events for more than 1,000,000 happy participants!
Our strong track record has led us to achieve awards such as Forbes 30 Under 30 Honouree, APAC Insider's Best Team Building & Events Company, Brands For Good Champion, Spirit of Enterprise Award and more.
Visit Us on our company website for more exciting activities and inspiration before you plan for your next team bonding session!
Virtual Team Building, the recent pandemic had impacted all of us in many ways, we have transitioned from working physically in the office surrounded by our colleagues, working, laughing and interacting with one another to working from home, isolated, and stuck with looking at the screen the whole day long.
With so much transition within a short period, it is without a doubt that we find ourselves feeling every form of emotion, often, working long hours from home with limited social interaction can cause negative effects on one's mental health and all of these in return could affect the work quality and productivity produced for the organization.
Therefore, to solve this issue, organizations should care for their employees' well being and allowing them to stay connected. This is Why Virtual Team Building Is The Way To Go! Here at The Fun Empire, we offer numerous virtual team bonding games, virtual creative workshops, all done via zoom! Read below we provide you with 10 reasons why you should conduct a Team Building Session for your organization today!
Benefits Of Virtual Team Building
1. Improves Team Chemistry
All team building sessions have the similar objective of fostering a better sense of teamwork and improving relationships amongst employees. When a team exhibits good morale, employers communicate with enthusiasm and joy with one another, in return, this creates a positive approach towards team effort and motivation. During times like these boosting morale and having a well-connected team is extremely crucial.

"Tough Times Don't Last, Tough Teams Do"
2. Increase Productivity
From personal experience, working from home can be extremely challenging, with many things distracting you while you work, finding motivation and drive to keep going are some of the key challenges that many faced. A virtual team building session can bond teams together and encourage employees to interact socially through video call sessions.
This will improve moods and morale, a happy team is a productive team!
3. Promotes Collaboration
Collaboration and communication become extremely vital when employees are physically separated. With Virtual Team Building activities, employees HAVE to communicate and collaborate to carry out the session. Our virtual team building activities are designed to promote those 2 points!

When collaboration and communication within a team are strong, the team can effectively work together, problem solve and manage conflicts.
4. Combat Loneliness
Staying at home and working 5 times a week can be mentally exhausting. The emotion of loneliness is bound to creep in. With loneliness, other negative emotions will slowly kick in and mentally drain an individual. Unfortunately, those who live alone may go through a long time without interacting and socializing. Thus, it is important that organisations hold virtual team building activity to help bring people into the group and give them the chance to chat with other human being.
5. Increase Motivation
During difficult times like these, motivation levels are down and employees can find themselves in a tough situation trying to balance out work and mental health. These interruptions make it difficult for teams to motivate themselves to get up and do work in the same way as before. A fun virtual team building activity gives teams an hour to forget about the outside world and motivates the team to keep calm and carry on working.
Adapted From Top 10 Benefits Of Virtual Team Building
6. Promotes Creativity
Creativity and inspirations are often hard to come by when one is restricted, drained and feeling low. For many, creative ideas are shared, discussed and further improved on when we are working physically in the office, with just a turn of your office chair, you can discuss ideas and opinions with your colleagues.
However, at current times like this, creativity can dramatically fall when you are stuck at home without the rest of your team. If you are used to bouncing ideas off of each other to come up with new and exciting ideas you could find yourself frustrated at the idea of a long period without your colleagues. A remote team building event gives you the time to get inspired and come together as one team.
Adapted From Top 10 Benefits Of Virtual Team Building
7. Encourages Positive Reinforcement
Rewarding and providing positive reinforcement are often well-liked by employees, back when monthly office parties/ dinner nights are organised, many of the employees are sure to be enjoying themselves, as they say, work hard, play hard!
With the current social gathering restrictions, organising a celebratory session can be very challenging, however, with Virtual team building, you can now reinforce positive behaviour when working from home! Our virtual team building games and workshops are guaranteed to be enjoyable and fun, giving the same feeling of excitement and joy to your team when they try it out for themselves!
8. Low Cost
During these unprecedented times, we all know that budgets are tight especially for activities that may not be classed as an essential function. However virtual team building events boast a much lower cost than the usual team building events on offer. They have the natural benefit of zero venue costs due to the fact that they take place inside your very own home! With this in mind the benefits of running a virtual team building event far out weighs the minimal cost to organise. Here at The Fun Empire, our virtual team building activities start from just $15SGD/Pax.
Adapted From Top 10 Benefits Of Virtual Team Building
Our award-winning team bonding activities have been well-loved by our diverse clientele, generating over 1,000 5-Star Reviews. We have also successfully organized over 10,000 events for more than 1,000,000 happy participants! Definitely the best deal out in the entire of Singapore!
9. Encourages Work-Life-Balance
We get it, work-life balance is often limited/ non-existence here in Singapore. Singaporeans are one of the hardest workers in the world, clocking in 44.8 hours a week on average in 2020.
However, long hours does not always equate to high productivity. It's time to take a break, so this is where a virtual team building workshop can help. To allow your team some time to unwind together, enhance wellbeing, and switch off those slack notifications. Remember that work-life balance is essential for your mental health!
10. Gel Team Together
This will be my final point, after providing all of the points above, I would like to personally share something of my own, during tough times like these, working from home is inevitable, the feeling of isolation/ nagging from your family member might decrease an employee's overall mood and result in a negative effect on his/her communication with the team as well as the work output.
During times like these, making a well-bonded team has never been more important. Spending times with colleagues through remote/ virtual team building allows individuals to catch up with colleagues and enjoy time together.
Benefits Of Virtual Team Building
We hope this article provided was informational for you. Furthermore, we are The Fun Empire creates and provides the world's coolest and most unique team building games. We have created and developed in-house over 30+ unique and exciting team building activities that you and your team will love!
Our award-winning team bonding activities have been well-loved by our diverse clientele, generating over 1,000 5-Star Reviews. We have also successfully organized over 10,000 events for more than 1,000,000 happy participants!
We are the only team building company in Singapore and Southeast Asia that attained the ISO 9001:2015 Certification in Service Quality, the world's gold standard in Quality Management. Our strong track record has led us to achieve awards such as Forbes 30 Under 30 Honouree, APAC Insider's Best Team Building & Events Company, Brands For Good Champion, Spirit of Enterprise Award and more.
We hope that you stay safe and stay connected, till next time!
Visit Us on our company website for more exciting activities and inspiration before you plan for your next outing
Escape Room Themes In Singapore
Looking for an adventure but too spoiled for choice? Nearly all escape rooms are deliberately assembled to exude a common theme. This allows participants to immerse themselves in the game and escape reality temporarily.
From crime investigations to magical fantasies, The Fun Empire's escape rooms are intricately crafted by designers who have won various local and international game designer tournaments. With both physical and virtual escape rooms available, The Fun Empire offers a variety of escape room themes to satisfy anyone's needs.
With the plethora of themes available, choosing an escape room theme to try can be difficult, but fret not! We have prepared a list of the 17 Best Escape Room Themes in Singapore to help you with your decision.
1. Vigilante / Spy
Apart from having to escape (duh!), rooms with espionage scenarios require participants to infiltrate a high-security base and steal something valuable. Unlike the basic escape room, you will get to slip into the role of an outlaw and "break the law" for 60 minutes and try not to get caught. If you're looking to try out such "rebellious" fun, The Fun Empire offers Ben's Big Heist to fulfil your Money Heist fantasies. Using only a blueprint that is lightly scribbled with notes, you and your team will have to break into a bank and steal as much gold as possible. With limited time on hand, strategise the number of vaults you want to loot, and don't forget to make your escape before the police arrive!
2. Murder Mystery
The most common theme adopted by escape rooms is "mystery" as it caters to the inquisitive minds of most people. A murder mystery typically asks the participants to play detective and look for clues in various locations like the crime scene and the victim's house. The main task would be to apprehend the perpetrator before s/he escapes or turn you into the next victim. Remember to put on your thinking cap and beware of fake pieces of evidence or incomplete witness statements that might throw you off your tracks.
3. Food Quest
Are you the typical foodie who's interested in nothing but food? This is just the theme for you! Exclusively at The Fun Empire, get your appetite rolling as you work through puzzles featuring food from all around the world. Learn and explore different cuisines at the comfort of your own home and be guaranteed a time of fun and laughter. Already salivating with excitement? Book now and be the next Top Master Foodie!
4. Missing Person Hunt
Another variation of detective play: looking for a missing person. The missing person can be someone dear to you, or a total stranger, and you will have to follow tightly after an abductor's trails. As the kidnapper goes off for lunch, you have no longer than one hour to save the damsel in distress before the abductor escapes beyond your reach.
5. Horror / Thriller
Just when you think that being trapped in a room is scary enough, get ready for escape rooms that send shivers down your spine. Developed for the more courageous community - horror-themed escape rooms are the perfect alternative to haunted houses - except this time, there is no confirmed escape. Some rooms may even add "scare-actors" to enhance the scare factor. Pair that with eerie music and participants are in for a hell of a ride! Be sure to choose a room with a comfortable level of thrill, or play with friends that can protect you when in need.
6. Fantasy
Not a fan of horror? Immerse yourself in an enchanted forest, a floating castle, or a superhuman institute, and be prepared for a game that could possibly defy logic. Get to be a wizard (or a witch) for a day and hold your wands with confidence as you solve puzzles to escape the clutches of your unhuman enemies. Designed for anyone interested in fictitious beings or myths, these rooms have countless possibilities and teleports participants into an imaginary space for an out-of-the-world experience.
7. Fairytales
Be it the original or a twisted/dark version, escape rooms are sometimes modelled after childhood fairytales, like "Alice in the Wonderland" and "Hansel & Gretel", as they are familiar and reminiscent. These escape rooms are popular among people of all ages; they get children excited about interacting with cute characters and get adults delighted about reliving their childhood memories.
8. Time Travel
Is time travel just a theory? With escape rooms, everything is possible! Get ready for an adventure unrestricted by the limits of time as you transcend eras to find the answers you have been chasing. Stop waiting and try out Time Travel: The Experiment brought to you by The Fun Empire to prove your worth in inheriting the time travel machine invented by your eccentric uncle. Time is literally of the essence so book it now!
9. Movie
Always wished that you could be part of a movie? Movies can leave a lasting impression on viewers and convert them into hardcore fans of the characters and/or the storyline. Movie-themed escape rooms serve as a great opportunity for participants to live in the shoes of their favourite character or experience their favourite movie scene. Certain escape rooms even have costumes for participants to dress up in for a complete experience.
10. Anime
These escape rooms are similar to movie-themed escape rooms, and are based on Japanese animations. As animes gained recognition across the globe, escape rooms are catching up with the hype. Since animes span across a range of genres, anime-themed escape rooms are diverse in possibilities. It also allows participants to have a close look at the author's artworks and dive deeper into existing or new storylines.
11. Amnesia / Memory Loss
Can't remember what you ate for lunch? Have a feel of true amnesia as you figure out what happened to a protagonist that has no recollection of how they ended up in their current situation. Either help out someone with lost memory or discover the mystery behind your own amnesia. If you want to explore this theme, try out Jack's Hangover by The Fun Empire and help the protagonist recover his memories. Having woken up with a terrible hangover and a splitting headache, Jack can't seem to recall the events of last night. Work together with your team members to investigate where Jack had been, but don't forget to arrange for his flight that is to come!
12. Zombie Apocalypse
A theme that gained popularity when dramas and movies such as World War Z, The Walking Dead, and Train to Busan featured its possibility. As news about a new virus outbreak appeared on every channel, figure your way to safety before the undead catches up to you. You may need to climb over walls or crawl under fenced facilities to avoid the swarms of zombies!
13. Science / Lab
As the leading global vaccine laboratory, our company has just developed a vaccine that will save the world from the pandemic. However, a research assistant from our rival company, Biosis Laboratory, has infiltrated our laboratory and stolen our vaccine in a recent attempt to disrupt our business. Meant to be shipped to Country U tonight, we need to find the vaccines back urgently!
14. Bomb Defusal
The bomb defusal escape room is an extremely efficient team-building game. Participants are compelled to communicate with each other as they race against time to stop the bomb from going off. Certain versions even split the participants into different rooms and they are required to shout across their rooms to share the unique information they hold. This theme is perfect for people who enjoy adrenaline rushes and don't mind the slightly stressful (but FUN) challenge. The Fun Empire's Time's Ticking escape room is one that incorporates this theme. Trapping the participants in a room with a bomb, they have to figure out how to diffuse the bomb in time to capture the terrorist.
15. Prison Break
This storyline often involves portraying you as someone who was wrongfully sentenced for a crime you didn't commit. In order to seek justice for yourself, you have no choice but to break out of prison or risk never seeing your family again. Being locked in a facility with high security means that you have limited time to escape, just 60 minutes when the security guards are swapping shifts. Pick up clues from the previous inmate(s) that broke out, as you avoid CCTV cameras and the wardens along the way.
16. Video Games / Virtual Reality
Can't get enough of fighting the monsters on your computer screen? What if you had an opportunity to be physically in a video game? Shut out the rest of the world using virtual reality and jump into your video game to enjoy a private space of fun. Just remember to return to reality after you are done slaying the demons!
17. Amazing Race
Travel the world and complete puzzles as you race against time, or better, against other players for the prize money. This theme challenges both the mind and body as you run from station to station to unravel puzzles before the others. If you don't think that you can travel the world due to the pandemic, you are wrong! Pack your virtual bags and proceed to the starting line because virtual amazing races are now available for your team-building needs. Try now at The Fun Empire as we bring to you Rescue the Queen: Amazing Race Around the World. Answer the old man that haunts you in your dreams and search the globe to lift the curse that has befallen the lives of millions.
Escape Room Themes In Singapore
So after reading all about the 17 Best Escape Room Themes In Singapore, do you know which escape room themes you want to try? Even though escape rooms can be challenging, they are extremely engaging and serves as effective team-building activities that create lots of fun and laughter. If you think that escape rooms might not be of you or your team's interests, read the following articles to get some inspiration for your next gathering!
It seems like you're running a default WordPress website. Here are a few useful links to get you started:
Migration
General
Performance
Security
Email
Our Partners


Join The Community Forum